Bear Buddys
We're buddies. Best buddies. Major Alfred Ursus and Leander - a minor bear. We were born a long time apart, but became friends while stuck underneath a piece of plastic to keep the dust off. Long abandoned by the need for a cuddle of plush, isn't it odd how people grow up and forget the imagination of a more simple time. We'll were back, and we're here to let you discover all there is to know about bears, fuzzy, plush, stuffed, toy, teddy, as well as our brother Grizzley, Black, Brown, Kodiak, Koala, Panda and Polar Bear pals. Well, Koalas aren't actually really truly bears (they have a pouch y'know) , and Pandas, not so sure, but were not prejudiced here. We welcome of all sorts of furry friends, so here is the place to come for all things bear.
Featured Bear Bits
Teddy's Bear
St Gallus and His Bear
From the Bear Cave Blog
BearBuddys the Movie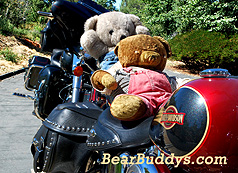 Okay, how about this … the BearBuddys star in their own Hollywood movie – where they get on their Harley Davidson and ride across the USA expressing their freedom with their shaggy hair and anti-social BearBuddy lifestyle pissing off middle America until some back woods yahoos unable to cope with those who are different come after them with a shotgun. — No 's the plot to Easy Rider. Never mind.

How about Bears in Space!


Today's Polar Bear Movie

Contact
BearBuddys
Best Bear Books at Amazon